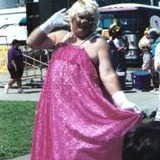 I first played with the Clown Band back in '88 at the Mackinac Island Lilac Festival, although I've jammed with many of these guys since the late sixties. I officially joined the band in the middle '90's and played trumpet for several years. I've been blessed to be able to play a little of this & that, so I try to be flexible and help out in what ever section they might need someone. When I go to a gig, the back of my car looks like I'm a used instrument salesman. You'll usually find some saxes, trombones, tubas, euphoniums, trumpets & cornets, and even an occasional drum or two. When invited, I even conduct on occasion. One year, at the Traverse City Cherry Festival, one of the tuba guys broke the mouth-pipe off his tuba, just before parade time. They told him to, "go see Miss Piggy". As luck would have it, there was a sousaphone in the back of the wagon. The Scottville Clown Band is in high demand, and as always, "THE SHOW MUST GO ON"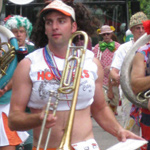 I am currently a math instructor at Muskegon Community College and live in Fruitport. As a student at Grand Valley from 1997 - 2000, I minored in music and was the drum major of the marching band in the fall of '99. When I am not in classroom or playing my trombone I enjoy running, golfing, and travelling. My first appearance with the Clown Band was in 1998.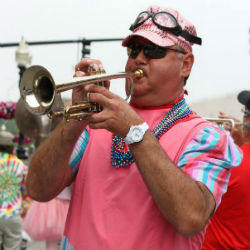 In 1975 Walt "Skeeter" Listing invited me to come to a SCB rehearsal. My first 'go' was in Mackinaw City and have been blessed to play throughout Michigan with the band over these many years. Started playing alto sax at the age of 7 and switched to trumpet a year later, taught by my father, Robert Meyers (a SCB euphonium player) and MSU alum. Went on to solo trumpet at the U of M and currently serve as Director of Music at Muskegon Community College and Conductor/Music Director of the West Michigan Youth Symphony.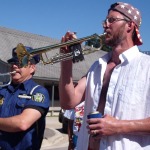 My name is Don Miller and I live in Manistee with my wonderful wife of 11 years and 4 beautiful children. I am a xray and ct tech at West Shore Medical Center and am a MHSAA registered basketball official. I have been playing trumpet in the band since July of 2004.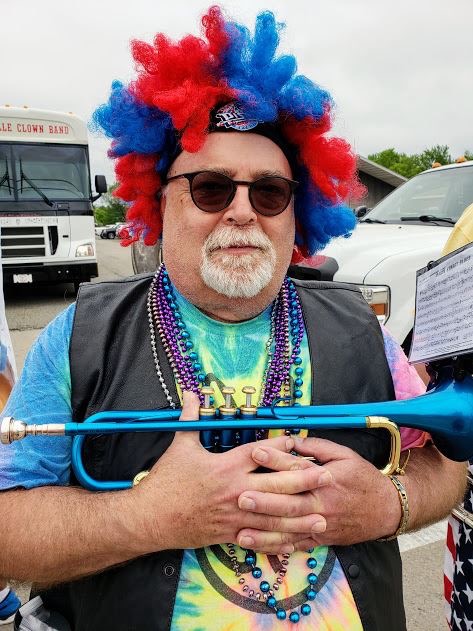 2018 is my second year as a member of the Clown Band. I have been a fan and follower for over 50 years. I was a member of the Wanderer Drum and Bugle Corp in high school, and it seemed like every parade we were in, the Clown Band and Big George were there, from Muskegon, Grand Haven, and Ludington to Baldwin. My Grandfather always said, "If you get a chance, make sure you join them." Well, now I have. I have been playing trumpet since 5th grade and there are now four generations of Millers who have played trumpet. I am also a member and board member of the Thornapple Wind Band.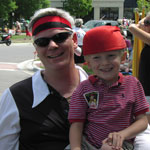 I am a native of Traverse City. I enjoy playing trumpet in the Scottville Clown Band, joining in 1990. I am a Life Member of the Scottville Clown Band. I also play in a local Dixie band in TC. My priorities are God, family and the Scottville Clown Band.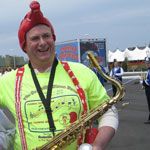 I'm known as Hogman and live in Holland with my wife Elizabeth and 2 children. I have played tenor saxophone in the Scottville Clown Band since 1995. I also play in 3 other concert/jazz bands. My son Kenneth is also a member of the Scottville Clown Band and plays both sax and percussion. I enjoy making people smile and laugh when we're out on the street, especially the children. I am a faithful Arkansas Razorback fan and love playing my Razorback fight song at the end of the show. Go Hogs!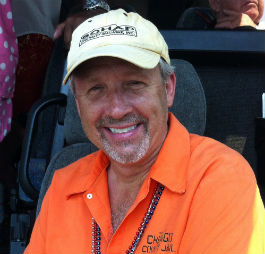 I am a long time Spring Lake resident who started playing trombone in the fifth grade while at Fruitport Schools. At Michigan Tech, I was a member of their famous pep band and have since played with community bands, including a stint in the Holland Symphony. In 2007, I was recruited by another member who convinced me it's more fun to be a clown. I made the switch from a penguin suit to a MTU pep band getup and never looked back. On special occasions, I might even throw on a dress! Being a member of the Clown Band allows me to laugh, joke, and spend time with a great bunch of guys, from young to young at heart, who like to share their musical talent with others. Their enthusiasm inspires me to give the crowd an unforgettable performance. It's always exciting to see the welcoming crowds and be a part of their festival.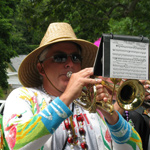 Originally from Ohio, I moved to Grand Haven in 1988. I joined the band in the summer of 2009 after enjoying their participation in the Grand Haven Coast Guard Festival for many years. Since then, it has been even more fun and rewarding then I ever imagined. Everybody in the band has been great and make you feel like you have always been a part of the group. I look forward to many more years of "clowning around" with the band.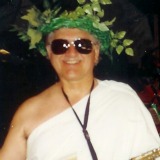 My name is is Stu Smith. I was recruited into the CLOWN BAND by Phil Sirrine (Uncle Phil) in 1983, as an alto sax player, but I've bounced around since then between clarinet, alto sax, and tenor sax, depending on need. I've also bounced around between various classical and jazz organizations. I got my start in Benton Harbor back in the fifties by playing as a sort of utility man for the Twin Cities Musicians Union. Whenever someone needed a horn player, they called the Union, and the Union sent me out. Consequently, I learned to play just about every style of music in existence. I got my BA in Liberal Arts (mathematics & German) at Western Michigan University and my MA+ in German at Michigan State University. I taught one year (German & math) at Olivet College, six years (just German) at Adrian College, and twenty years (German, Algebra, Geometry, Intro to Comparative Languages, etc.) at Brethren High School. After I burned out on high school teaching I spent ten years working as a case manager for mentally ill adults and finally retired at age 70. I especially enjoy watching the crowd watch us in the parades.