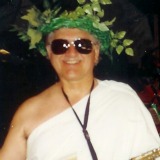 My name is is Stu Smith. I was recruited into the CLOWN BAND by Phil Sirrine (Uncle Phil) in 1983, as an alto sax player, but I've bounced around since then between clarinet, alto sax, and tenor sax, depending on need. I've also bounced around between various classical and jazz organizations. I got my start in Benton Harbor back in the fifties by playing as a sort of utility man for the Twin Cities Musicians Union. Whenever someone needed a horn player, they called the Union, and the Union sent me out. Consequently, I learned to play just about every style of music in existence. I got my BA in Liberal Arts (mathematics & German) at Western Michigan University and my MA+ in German at Michigan State University. I taught one year (German & math) at Olivet College, six years (just German) at Adrian College, and twenty years (German, Algebra, Geometry, Intro to Comparative Languages, etc.) at Brethren High School. After I burned out on high school teaching I spent ten years working as a case manager for mentally ill adults and finally retired at age 70. I especially enjoy watching the crowd watch us in the parades.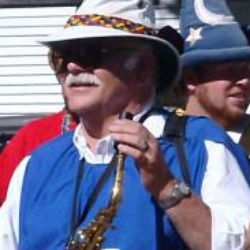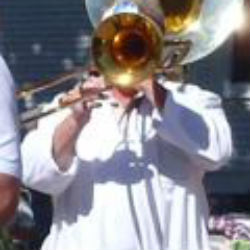 I joined the Band in 1988 as a drummer but have played trombone since 1989. I have served as secretary of the Scottville Clown Band since 2004.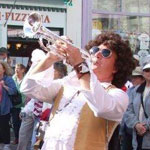 I play trumpet in the Scottville Clown Band and became a member in 1994.