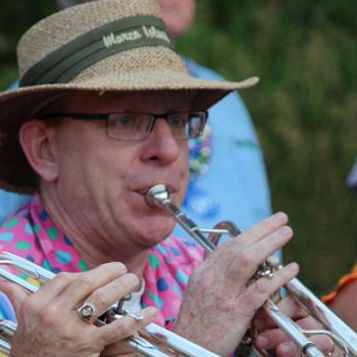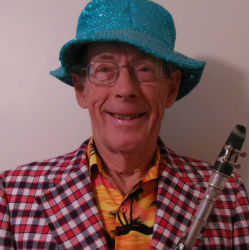 I joined the Scottville Clown Band in 1997 with support from Barney Barnett and Chuck Kercher. In the late 1980s my daughter was in the Hasting High School Band. Her band director told her there was a special band coming to town for the Summer Fest celebration, and it was a must-see group. That group was the Scottville Clown Band, and I was impressed with how those guys could play. I told myself that someday I've got to join that band. I played in the Central Michigan University Marching Band, the Post Concert Band in Battle Creek, and am presently a member of the Central Michigan Area Concert Band under the direction of Claude Lemmer, the Suncoast Concert Band in Sarasota, Florida, and the Venice Concert Band in Venice Florida. I am retired from teaching Chemistry at Kellogg Community College in Battle Creek, and currently live in Mt. Pleasant.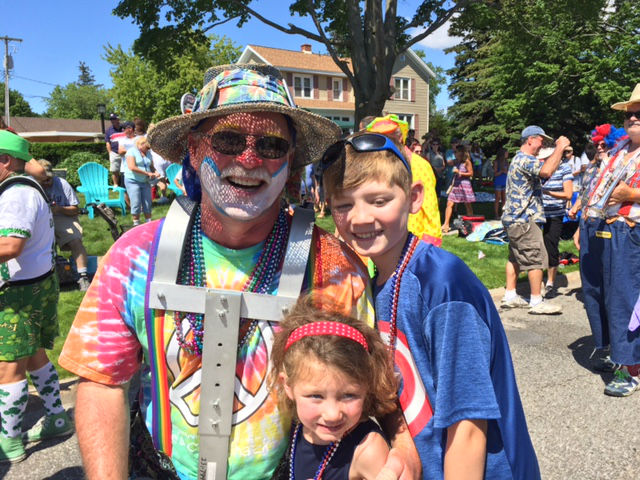 I started playing drums in grade school under the direction of C. Howard Hornung, director of Ludington bands. In 1974 I asked Big George Wilson for his daughter Mary's hand in marriage. When I told him I was a drummer, he said that if I joined the Band I could marry his daughter! I did, we did, and the rest is history. I am a proud member of the drum section, and have served on the Board for 20 years, including 10 years as President. I am also privileged to be a Life Member of the Band. I enjoy the camaraderie of my clown buddies & the thrill of performing before our thousands of fans. A life long resident of the Ludington area, I am a retired carpenter. My wife is a retired teacher, and our 2 grandchildren live down the street from us. Life is good in Ludington.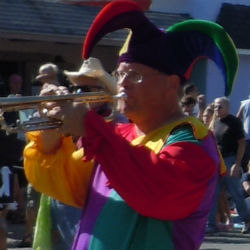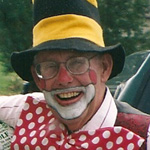 I was born and raised in North Muskegon and I am a retired engineer from Chrysler Corporation. I play trumpet in the band which I have been a member since 2002. I live in Chelsea, MI, and consequently I'm unable to get to many of the parades and shows. I thoroughly enjoy the comradeship of the band and look forward to playing with them when ever I can. During the winter months I live in Venice, Florida, and play in the North Port Concert Band and in the Sun Coast Wind Ensemble.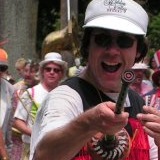 HELLO! My name is David Ladd and I am a Life-Member of the Scottville CClown Band. I joined the band in 1980 (invited to play by Bob "Pinky" Pinkerton) and my first performance was the strolling show at the Muskegon Mall in May, 1980. I am a member of the fantastic trombone section and one of the "Strippers" (Jim "Tiny" Frost made me do it starting in the early 1980's). Also, I am an occassional Street Leader & MC when the need arises. I truly enjoy every part of the Scottville Clown Band and respect the history that has made this band what it is today. My flapper costume is a second generation reproduction custom-made by a wonderful seamstress in Ludington, Michigan. My initial costume was an original 1930's flapper dress worn by my aunt. Although there have been a few modifications over the years, the flapper dress remains the costume of choice for me! To sum up a performance, I can only say WOW! There is nothing like the "roll-off" and subsequent blast of "Basin Street Blues" to get the band started in a parade, or the electricity of the crowd at any beer tent and concert venue where the band performs. It is an honor and a pleasure to be a part of such a storied and wonderful organization!!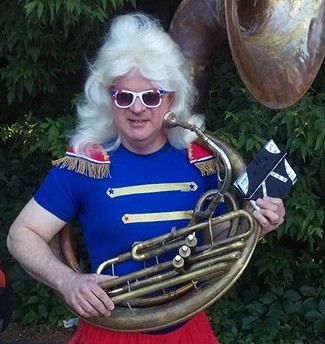 I am so excited to be playing with the Scottville Clown Band since 2016! I started playing tuba in 8th grade after I pleaded with my band director to let me switch from trumpet. After he agreed, I called my mom to pick me up from school and she asked "why? Can't you take the bus?" I said I can't bring a sousphone home on the bus. The rest is history. I also play with the MSU Alumni Band (1985, 1989-91), Michigan Lions All State Band (1984), University of St Thomas Bands (1995-1998). I currently live in Muskegon with my spouse and our Yorkie "Gizmo.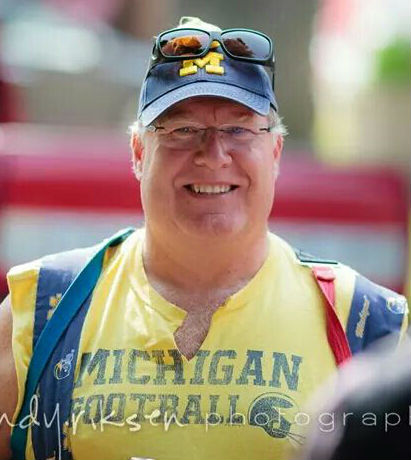 Jim Lindenau
From:
Ludington, MIScottville, MI
My name is Jim Lindenau, I've been in the band since 1973. I grew up in Scottville, Mi. and started the playing in the band at age 12. I was drafted into the band by Big George Wilson and the godfather of the band, Ray Schulte. The past 14 years I've served as the entertainment committee, board member, VP, and currently am President of the Scottville Clown Band of which I am a life member. After 44 years of the band I still enjoy going to all the different places we play.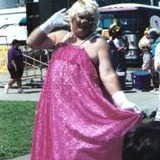 I first played with the Clown Band back in '88 at the Mackinac Island Lilac Festival, although I've jammed with many of these guys since the late sixties. I officially joined the band in the middle '90's and played trumpet for several years. I've been blessed to be able to play a little of this & that, so I try to be flexible and help out in what ever section they might need someone. When I go to a gig, the back of my car looks like I'm a used instrument salesman. You'll usually find some saxes, trombones, tubas, euphoniums, trumpets & cornets, and even an occasional drum or two. When invited, I even conduct on occasion. One year, at the Traverse City Cherry Festival, one of the tuba guys broke the mouth-pipe off his tuba, just before parade time. They told him to, "go see Miss Piggy". As luck would have it, there was a sousaphone in the back of the wagon. The Scottville Clown Band is in high demand, and as always, "THE SHOW MUST GO ON"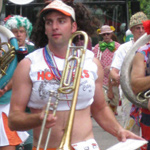 I am currently a math instructor at Muskegon Community College and live in Fruitport. As a student at Grand Valley from 1997 - 2000, I minored in music and was the drum major of the marching band in the fall of '99. When I am not in classroom or playing my trombone I enjoy running, golfing, and travelling. My first appearance with the Clown Band was in 1998.