My name is Darren Acton. I've been a member of the Clown Band since 2008. Being from the Irish Community of Clare, Michigan and as my Bandmates love to remind me, "Being Short in Stature," the Leprechaun costume seem to fit. Pun intended. Although dressed Irish, as a Graduate of Central Michigan University, I'll always be Maroon and Gold. "FIRE UP CHIPS!"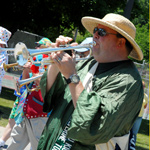 I was "drafted" into the Clown Band in 1986 by "Big George" Wilson. At the time I was 15 and my brother played trombone. Wilson told my mother that I would be joining the band the next year. I am a Life Member of the band and serve as Treasurer. In the real world, I am a professional photographer/writer and live in Scottville.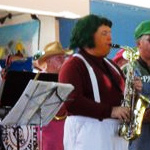 I joined the Scottville Clown Band to play sax in 2007 at the invitation of my brother-in-law, Keith, who plays Trumpet in the band. The costume comes from my kids. They thought it would be cool if I dressed as an Oompa Loompa. My favorite part of the band is watching people who see us for the first time. When I am not pretending to be an escapee from the chocolate factory, I can be found with my wife and kids in the Grand Rapids area, where we live, and where I work in the TV News business. We live in Wyoming, MI.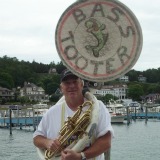 I live in Sumner, MI. I been a Self Employed Carpenter since 1973. I worked in 1980 Lake Placid NY Winter Olympics building project. I was employed as an Instrumental Band teacher at Great Lakes Academy, Morey Charter Public School in Central Michigan for 9 years. My degree is sharing musical knowledge and encouraging others to join Community Bands. I have six children and three grandchildren. I've helped them learn how to play band instruments and learn to love music through my dedication and support in playing in the local Community Bands. I enjoy playing music and occasionally have been asked to conduct in the bands. I play Euphonium, Tuba, Electric Bass and Guitar in the Central Michigan Area Concert Community Band, Ionia Community Band, Caravan Circus Pick-up Band, Scottville Clown Band, Greenville Danish Band and the Blue Lake Adult International Band. I've toured in Europe, Germany, Belgium, France, and Tivoli gardens in Copenhagen Denmark. I also conduct my own ensemble groups called The Celtic Harmonies and "The De-Composer's Band".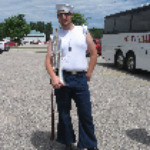 My name is Nelson Buckley I've been with the Scottville Clown Band since 1997. I am a 2nd generation and current life member of the Scottville Clown Band. I grew up watching my father perform in the Scottville Clown Band, listening to "Basin Street Blues" summer after summer until I was old enough to join the band. Music has been an integral part of my upbringing and has paved the way to many musical opportunities throughout my life. As a youth I traveled overseas with the Michigan Ambassadors of Music, performing with the best of the best high school musicians in Michigan for both instrumental and choral music performance. As an adult I have performed both instrumental and choral music for a variety of audiences both stateside and overseas. I performed with the SCB through high school and after a brief tour with the U.S. Navy (8 years) I moved back to Michigan to settle, work, and play music with the SCB once again. My favorite part about playing in the SCB is the energy, smiles and laughter the band gets from the crowds we play for; the cities we play in are always welcoming and everyone is happy to see us. Through thousands of miles and millions of smiles I'm proud to be life member of the SCB and look forward to many more years playing for the cities and festivals in and around Michigan. I currently live East of East Lansing and work as an Imaging Service Engineer for a local hospital. I play the French Horn and dress as a sailor. Hopefully, "We'll see you down the road." Semper Sitientis.! Go Navy!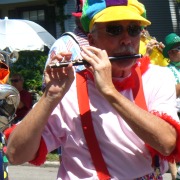 I joined the band in 2005 after retiring from a career in hospital administration, where I spent time in Omaha, Ludington, and Traverse City. I play piccolo (and flute) in the Northwestern Michigan College Community Band and the Grand Traverse UM Alumni Band. My wife and I spend winters in Sarasota, Florida. The trumpets and trombones in the Clown Band are always complaining that I drown them out.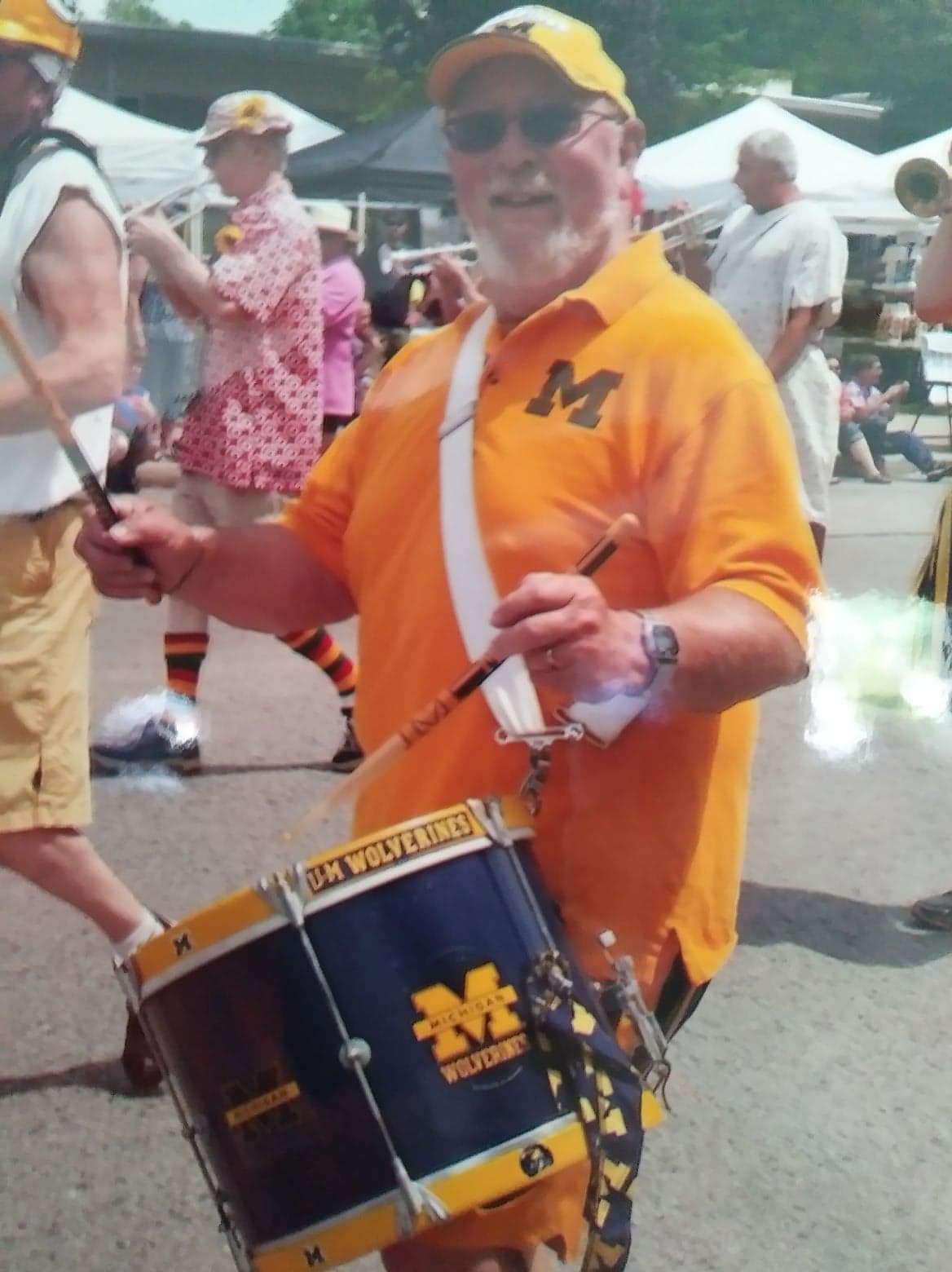 22 years ago I ask Big George if they needed anymore drummers and he told me to talk to Emery Marrison and Emery told me to get a drum and join them. So I did. Actually I have been watching the Clown Band every since I was 10 years old. We would center our vacation around the 4th of July, so my Mom could watch the Clown Band in the parade. I told her that I would play with those clowns someday. She never got a chance to see me play with the band but my Dad did. He also loved the band. I have enjoyed every moment playing with the band and I can't say enough good things about the band. All the guys are super and we all love making people laugh and playing good music.