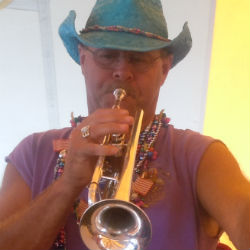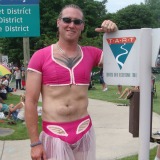 I live in Allendale. I have been a member since 2010. I started playing trumpet and then switched to tuba. I attended Rockford High School. From there I went on to play tuba at Central Michigan University. I've been a member of the Rockford Community Band, I've also played with the Zeeland Community Band, and now...The Scottville Clown Band.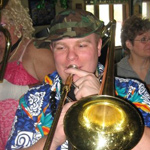 My name is Nate DeWeerd from Ludington. I have been playing Baritone and Trombone with the Band since 1993. I am proud to be part of one of the largest family units in the Band, with my dad, uncle, and two brothers also playing. I have been on Active Duty in the United States Marine Corps since 1998, so I don't get the opportunity to play as much as I would like, but when I do, I always carry the Marine Corps flag, and sing our Hymn with pride during Salute to the Troops. I really enjoy seeing the smiles on the faces of our fans when we come marching down the street, and hope to be doing this for many years to come. Semper Fidelis et Semper Sitentis!!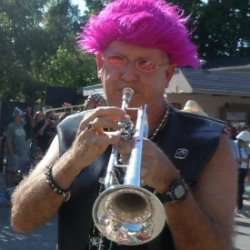 I have lived in Grand Haven for the past fourteen years, having moved from Plymouth, MI after getting married. I am a Chiropractic Physician with specialties in Applied Kinesiology and Sports Biomechanics. My wife, Kathie, is my office manager. I grew up in Ypsilanti where I began playing trumpet in the fourth grade. I continued on through high school under the baton of Al Townsend who used to play lead trombone for Gene Krupa. I did marching band as well as concert band and Al had us form a Big Band, playing all of the old Big Band favorites. I went on to play in the band and the orchestra at Hope College. Following college I played in the Plymouth Community Band for twenty five years. At intervals I would also play with the Plymouth Symphony. After moving here I played for two years with the West Michigan Winds. Scottville Clown Band member Ray Wiersma heard me playing in church and told me I should think about joining the Scottville Clown Band. The church lets me practice there as we live in the Old Piano Factory Condominiums and they don't even seem to mind when I practice Basin Street Blues or Saints in the sanctuary. I haven't hit them with The Stripper yet…..we'll see! The "motorcycle babe" costume just kind of evolved after several other outfits. I don't even own a motorcycle. Alter ego? I have loved every minute I have played with the band. The roll off marching down the street still gives me a thrill as we swing into Basin Street. What a great group of guys and very talented musicians. I am in awe, at times, how good everybody is. It is a joy and an honor to be part of the group, now, and in many years to come.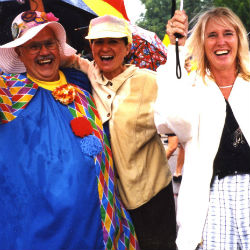 I moved here in 1953 to teach school. I saw the Scottville Clown Band for the first time at the Coast Guard Parade. Ever since, my family and I would be anxious for the end of the parade when the SCB would appear. While playing in a local church trumpet trio in 1994, I was invited to go to my first SCB rehearsal and then became a member. I retired from the Grand Haven public schools in 1986 and now live in Holland, MI. The photo above is of me with a couple of fans on a rare rainy Coast Guard parade day.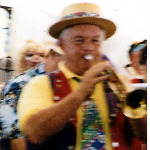 I joined the Scottville Clown Band in 1947-48. Ray Schulte encouraged me to join as I was then playing trumpet in high school. Back then, the Band played only 4-6 times a year and seldom numbered more than 12-15 members. I have served several years on the board also as president, v-p, and secretary for a short time. I'm retired from insurance and fruit farming. My wife Carol and I live NW of Scottville and I've lived in Mason County all my life. I also play with the Salt City Dixieland/Jazz Band, the Pentwater Civic Band and the WSCC Concert Band.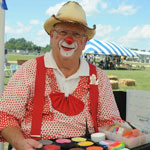 I've been a tuba player since 2000. I facilitate bereavement support groups for hospice, I'm a member of The Montcalm County Suicide Prevention Coalition, and I volunteer at Carson City Hospital. I started clowning in 2004 and specialize in face painting, creating balloon sculptures and clown magic. Rusty is pictured at the Carriage Festival in Gladwin. My rates are reasonable.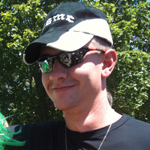 I'm a United States Marine that has already served in Iraq and Afghanistan and plan on reenlisting. I play clarinet and soprano sax with the band when I can, however, my job keeps me pretty busy. When I'm on leave I'm in Muskegon.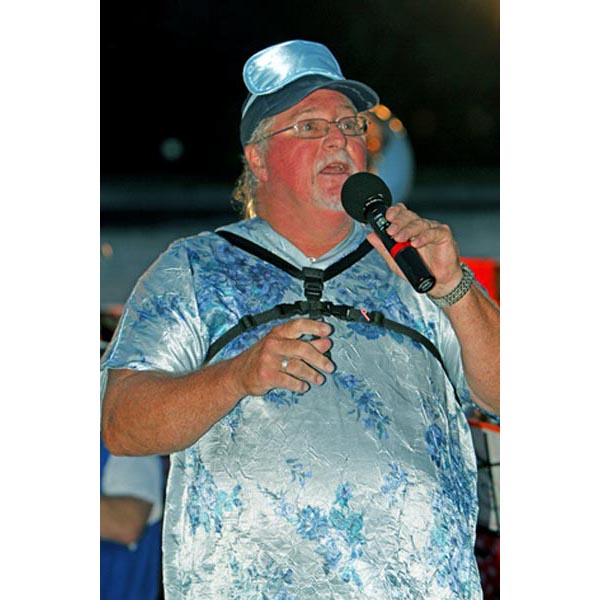 I'm Terry Hollar from Grand Haven. I started with the Clown Band in 1982 at the request of my father, Len Hollar (The Stripper). A few years later we were joined by my brother, Tom Making it a family thing. I started playing the singing silver cymbals and bass drum. I am now a life member and play the baritone saxophone.You may also find me singing "God Bless America" and at the end of our concerts, "America the Beautiful." I enjoy watching the crowd light up with happiness when the band comes "marching" by. I'm proud to be affiliated with this bunch of crazy, fun loving, talented musicians and hope that the Big Noise continues for many years.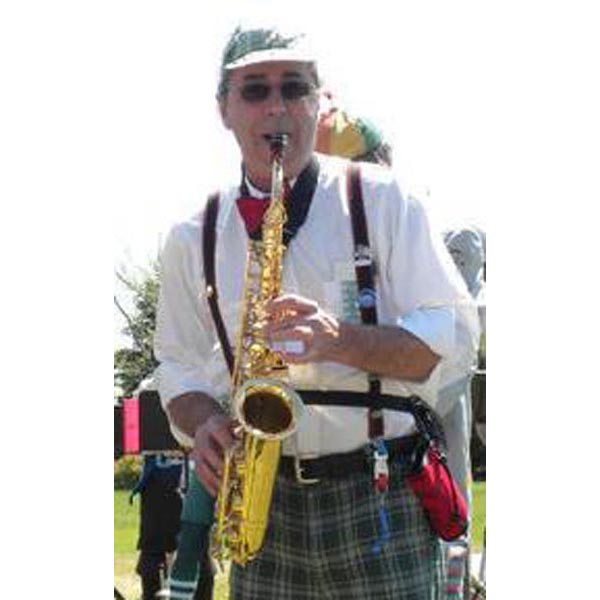 I am retired from MSU College of Law. My job kept me busy in the support of computers, printers and the network. I joined the Scottville Clown Band in 2006 and play alto and bass saxophone. I also played in the Lansing Community College Jazz Ensemble, the Ionia-Maple Valley Community Concert Band and I have sat in with some guys playing Dixie & jazz. I am a member of the FIRE band at Trinity Church in Stanton and a member of the Danish Band in Greenville. I have also performed with the Gateway Community Band in Clare.
I served as VP of the Clown Band for several years, one of the Directors of the Clown Band Board for several years, work on the Scottville Clown Band music library and was honored to receive the Scottville Clown Band's Member of the Year award in 2008.
This is definitely a fun time!